Monday was my first day at work. My new job that I got after the programmed process, interviewing and sending out Resumes to everybody who has a good job to offer, not just any job.
Anyway, after the mandatory orientation and all that stuff started, and I began interacting with my new colleagues, (btw, this time I'm in a group of winners, I can tell right away, so it seems) All of us feature a single motivation for being there: "money", I believe this is a great opportunity to do so, so here we are, trying to look like we are going to be the best of the best; which is yet to be seen after a rigorous training that can last a just a few weeks, or even months. Here's where we can set ourselves apart by making the trainers release us into the jungle, and start making some serious money.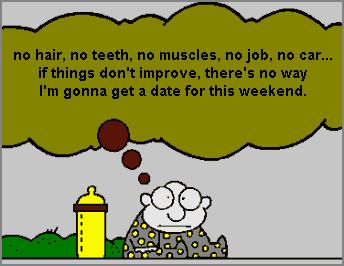 Up until the day before yesterday, this was me. Well, I still have hair and teeth, but that's about it.
Trying to get out of a stage of deep depression is big, and trying to make my life go back to normal is what my primary goal is set for now.
During my first day at work emotions, I felt the need as I did every time I started a new job, to call up my wife and share my feelings with her. Only this time, well, there was no wife anymore, but I still reached out my cell to dial home. I didn't even get an answering machine. I felt really bad right there, something I can't explain, and happened to me for the first time ever.
Thank goodness a found a couple of colleagues who are into building a huge web site, and one of them is a Personal Trainer with a background in Nutrition; maybe this is just sent from heaven to me, but I will try in making some good friends around here, we'll see…
Read More