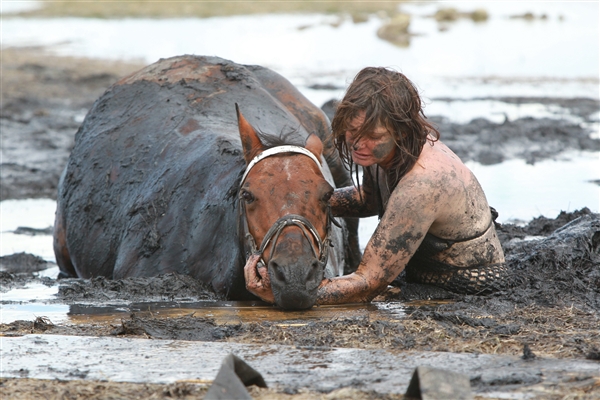 This is a truly amazing tale that involves a woman, a horse, and a group of dedicated rescuers on a beach in Australia.
A woman was out for an afternoon ride with her daughter when her horse suddenly sunk neck deep into the thick mud of Avalon Beach in Geelong, Victoria. What followed, reports Newspix, was a grueling three-hour rescue caught in photos. As Nicole Graham held the head of 18-year-old Astro from drowning in the rising tide, members of the fire department, emergency services, and a vet attempted to free the 1,100-pound horse. First they tried using fire hoses, then a winch. Making little progress, the vet, Stacey Sullivan, sedated him so that he could be pulled out with a tractor.
Read More
Steve Irwin, the hugely popular Australian television personality and conservationist known as the "Crocodile Hunter," was killed Monday by a stingray while filming off the Great Barrier Reef. He was 44.Irwin was at Batt Reef, off the remote coast of northeastern Queensland state, shooting a segment for a series called "Ocean's Deadliest" when he swam too close to one of the animals, which have a poisonous bard on their tails, his friend and colleague John Stainton said."He came on top of the stingray and the stingray's barb went up and into his chest and put a hole into his heart," said Stainton, who was on board Irwin's boat at the time.Crew members aboard the boat, Croc One, called emergency services in the nearest city, Cairns, and administered CPR as they rushed the boat to nearby Low Isle to meet a rescue helicopter. Medical staff pronounced Irwin dead when they arrived a short time later, Stainton said.Irwin was famous for his enthusiasm for wildlife and his catchword "Crikey!" in his television program "Crocodile Hunter." First broadcast in Australia in 1992, the program was picked up by the Discovery network, catapulting Irwin to international celebrity.He rode his image into a feature film, 2002's "The Crocodile Hunters: Collision Course" and developed the wildlife park that his parents opened, Australia Zoo, into a major tourist attraction."The world has lost a great wildlife icon, a passionate conservationist and one of the proudest dads on the planet," Stainton told reporters in Cairns. "He died doing what he loved best and left this world in a happy and peaceful state of mind. He would have said, 'Crocs Rule!'
"Because when they strike it can be that quick that if they're within range, you're dead, you're dead in your tracks. And his head weighs more than my body, so it's WHACK!"
Steve Irwin (1962-2006) – Actual quote
Prime Minister John Howard, who hand-picked Irwin to attend a gala barbecue to honor President Bush when he visited in 2003, said he was "shocked and distressed at Steve Irwin's sudden, untimely and freakish death."
"It's a huge loss to Australia," Howard told reporters. "He was a wonderful character. He was a passionate environmentalist. He brought joy and entertainment and excitement to millions of people."
Irwin, who made a trademark of hovering dangerously close to untethered crocodiles and leaping on their backs, spoke in rapid-fire bursts with a thick Australian accent and was almost never seen without his uniform of khaki shorts and shirt and heavy boots.
Steve died doing what he loved to do best. He played with death for so many times, it finally caught up with him. He went with a blast, though!
Read More