Demonstrators hold up their hands and call for an end to violence at a gathering in Seville.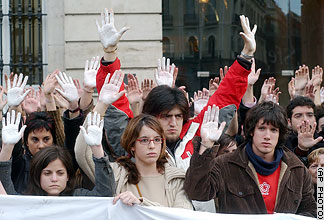 Taunting claim of responsibility
In a five-page e-mail claim sent to Al-Quds al-Arabi, Abu Hafs al-Masri said the brigade's "death squad" had penetrated "one of the pillars of the crusade alliance, Spain."
"This is part of settling old accounts with Spain, the crusader, and America's ally in its war against Islam," the claim said.
The statement taunted the prime minister, asking: "Aznar, where is America? Who will protect you, Britain, Japan, Italy and others from us?"
The message, which the newspaper faxed to The Associated Press office in Cairo, Egypt, also warned the United States that another major strike was approaching.
"We announce the good news for the Muslims in the world that the strike of the black wind of death, the expected strike against America, is now at its final stage — 90 percent ready — and it is coming soon, by God's will," the message said.
This apparent disconnect led some Thursday to speculate that Islamic terrorist groups might be behind the blasts, perhaps striking a blow at Spain for its decision to support the U.S.-led invasion of Iraq, or angered by the fact that Spain has arrested more alleged al-Qaida operatives than any European country outside Germany and France. Certainly, viewed from the perspective of al-Qaida, a group that dwells on perceived injustices centuries past, striking at the nation that drove the Moors from Europe in 1492 would not be hard to justify.
"… we weep with the families. We stand strongly with the people of Spain. I appreciate so very much the Spanish government's fight against terror, their resolute stand against terrorist organizations, like ETA. The United States stand with them. Today we ask God's blessing on those who suffer in the great country of Spain."

–U.S. President Bush
What do you think?
Read More
Monday was my first day at work. My new job that I got after the programmed process, interviewing and sending out Resumes to everybody who has a good job to offer, not just any job.
Anyway, after the mandatory orientation and all that stuff started, and I began interacting with my new colleagues, (btw, this time I'm in a group of winners, I can tell right away, so it seems) All of us feature a single motivation for being there: "money", I believe this is a great opportunity to do so, so here we are, trying to look like we are going to be the best of the best; which is yet to be seen after a rigorous training that can last a just a few weeks, or even months. Here's where we can set ourselves apart by making the trainers release us into the jungle, and start making some serious money.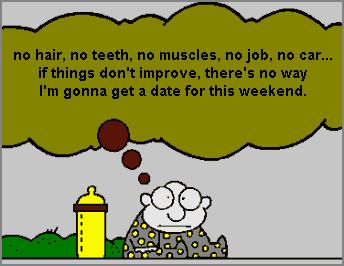 Up until the day before yesterday, this was me. Well, I still have hair and teeth, but that's about it.
Trying to get out of a stage of deep depression is big, and trying to make my life go back to normal is what my primary goal is set for now.
During my first day at work emotions, I felt the need as I did every time I started a new job, to call up my wife and share my feelings with her. Only this time, well, there was no wife anymore, but I still reached out my cell to dial home. I didn't even get an answering machine. I felt really bad right there, something I can't explain, and happened to me for the first time ever.
Thank goodness a found a couple of colleagues who are into building a huge web site, and one of them is a Personal Trainer with a background in Nutrition; maybe this is just sent from heaven to me, but I will try in making some good friends around here, we'll see…
Read More
I got to see this movie yesterday. I went with Pedro and two of his friends. We got there at 11:30 am since he had to go later to work as usual, and that was the only time he had available.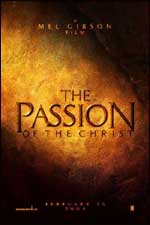 Well, I've always been a very impressionable person when it comes to certain films. This was no exception, and I can really say that this is the most touching movie I have ever seen.
Wow, talking about some work, Mel Gibson did an excellent job in capturing, while at the same time trying not to exaggerate or coming short in displaying what the last 12 hours Jesus spent on this earth must have been like.
I was expecting violence and suffering, but this film without a doubt in my opinion, has given me something unique and special.
"And He sat down on the throne and said. Behold, I make all things new." Rev 21:5
I personally haven't being a loyal Christian, and what this movie has put in my heart, is a true and continuous reminder that someone loved me so much, that came to this world for only one reason: to die in my place.
I came to an agreement with myself, and started out by getting rid of some material I wasn't proud to keep. I had had so many problems letting it go for years now, but just in an instant, as soon as I arrived home after seeing the movie, I was very determined to grab all of what had been distracting me from being free, and I was liberated.
I destroyed it without hesitation, and I have put a special promise in my heart and in my mind to try to get back to be what I used to. With Jesus' blessing, Amen.
Read More
I've been very interested in the events following the death of Keiko, which by the way I met many times while he was captive and giving shows before Mexican audiences back in 1989 and 1991, when I was working in La Salle Junior-High in Mexico City and I used to take my students for field tours to Reino Aventura (back then). I even patted Keiko once and got him to give me a kiss. I was very moved to learn of his death.
Back then, I saw that the trainers were taking good care of him and he seemed happy. Little did I know that none of this was true and that he actually was in pain and not being treated properly, but that's history.
Anyway, looks like they're having an event to Keiko's memory planned with a musical tour and everything. Very interesting!
You can see the Article about Keiko, here.
Read More
December 12, 2003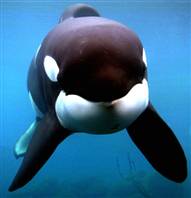 Keiko 1977-2003
WASHINGTON, DC – The Free Willy-Keiko Foundation and The Humane
Society of the United States (HSUS) reported today that Keiko, the orca whale, died today in the Taknes fjord, Norway, in the company of staff members who have been caring for him there.
Keiko's veterinarian believes that acute pneumonia is the most likely cause of death, though he also cited that Keiko was the second oldest male orca whale ever to have been in captivity.
The two organizations managing Keiko's reintroduction effort expressed sadness at Keiko's death while also heralding his amazing journey.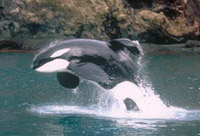 David Phillips, president and founder of the Free Willy – Keiko Foundation stated, ''Rescuing Keiko from a cramped pool in Mexico and bringing him back to his home waters is the most spectacular effort ever launched for an animal.'' He continued: ''Keiko was a champion; the most incredible whale.''
Paul Irwin, president of The HSUS added: ''Our intention from the very beginning, over a decade ago, was to provide Keiko with the chance for freedom, and that is exactly what he got. He came a long, long way and showed that returning captive whales to the wild is not simply a dream.''
Dr. Lanny Cornell, Keiko's lead veterinarian and a world renowned expert on orca care, stated: ''The most likely cause of death is from acute pneumonia, though it must be noted that at age 27, Keiko was one of only two male orca whales ever to have survived past 25 years in captivity.'' He continued: ''We have monitored Keiko's health very closely, and until only a day ago his appetite, activity and blood tests were all excellent.''
Yesterday, Keiko exhibited signs of lethargy and lack of appetite. Consultation was continuous between his caretakers and Dr. Cornell. His behavior was still abnormal this morning and his respiratory rate was irregular, but, as is often the case with whales and dolphins in human care, these were advanced signs of his condition. With little warning, Keiko beached himself and died in the early evening local time.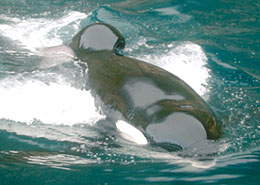 A decade ago, Keiko was featured in the Hollywood movie, Free Willy, prompting a worldwide effort to rescue him from poor health, in an attempt to allow him to be the first orca whale ever returned to the wild.
In 1996 Keiko was flown aboard a United Parcel Service plane to a new rehabilitation facility in Newport, Oregon. There he was returned to health and trained in the skills necessary to be a wild whale. In late 1998, Keiko was flown in a U.S. Air Force jet to a sea-pen in Iceland.
In the summer of 2002, Keiko joined the company of wild whales and swam nearly 1000 miles to the Norwegian coast. Since then, Keiko has been cared for in a fjord where he was free to come and go by his own choice.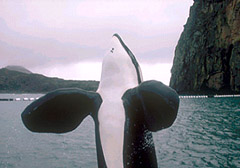 Keiko inspired millions of children to get involved in following his amazing odyssey and helping other whales. Keiko's journey also inspired a massive educational effort around the world and formed the basis for several scientific studies. Thousands of people traveled to Norway in the past year to see Keiko, continuing his legacy as the most famous whale in the world.
Phillips stated: ''Keiko was a trailblazer, the first orca whale ever rescued from captivity. There's still a lot of work to be done to see that captive whales are given a chance to be free. Keiko showed what is possible if these animals are just given the chance.''
Irwin stated: ''From the beginning, we did the right thing for Keiko and we intend to continue the fight to keep whales free.''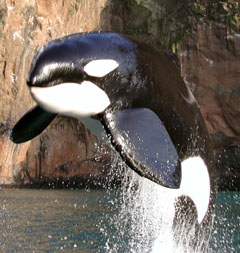 More information about Keiko and a timeline of his amazing journey to freedom can be found on The HSUS web site at www.hsus.org.
Read More