What it may have been the last two concerts by Bruce Springsteen at the Spectrum in Philly, were played on April28-29.
I guess I was one of the lucky 18,300+ who packed the soon to be demolished building-facility sometime in September.
I really enjoyed an amazing performance by one of America's great entertainers with my good friend Nicole Tomassi.
What a show, what a night!!!
Read More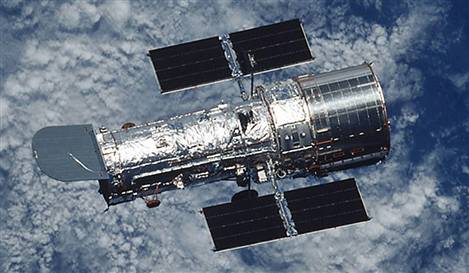 There's plenty to celebrate today as the Hubble Space Telescope turns 19 years old: The billion-dollar orbiting observatory is still in business, even though some people thought it should have failed by now. And after years and months of delay, it looks as if help is finally on the way. The shuttle Atlantis is set to deliver hundreds of millions of dollars' worth of belated birthday gifts next month.
Since the telescope's launch aboard the shuttle Discovery on April 24, 1990, Hubble has traveled 2.8 billion miles in space during more than 100,000 orbits around the earth. More than 570,000 pictures have been taken of about 29,000 celestial objects. The data transmissions sent back from Hubble add up to almost 39 trillion bytes – twice as much as all the data contained in all the books in the Library of Congress.
You can find these and other fun facts on the Space Telescope Science Institute's Hubble trivia page. You'll also find a rundown of Hubble's top discoveries to date – including insights into the nature of dark matter and dark energy, the speed-up of our expanding universe and the development of galaxies, stars and planets.
Just in the past month, Hubble has delivered a new batch of beauties, including its 19th-anniversary picture of a galactic "fountain of youth," a stunning view of an intergalactic smashup and a "People's Choice" picture of a three-galaxy traffic jam.
And there's much more to come, thanks to the Atlantis mission now due for launch as early as May 11: If all goes as planned, two new and improved instruments will be installed, two more will be fixed, and the telescope will be outfitted with new batteries and gyroscopes to keep it on track until the 2013-2014 time frame.
In honor of Hubble's birthday, we've turned this week's Sci-Q test into a Hubblefest. We're also serving up a fresh selection of cosmic images from the past month, including a couple of Hubble's highlights.
Read More
Pair hits it off after being set up on a 'blind date' by zookeepers.
It could have played out like a horrible blind date — with a capital "A" for awkward. But instead, polar bears Bill and Lara swam, played and bear-hugged on their first meeting at Lara's place, the Zoom Erlebniswelt zoo, in Gelsenkirchen, Germany. The sweet twosome were set up by zookeepers who had hoped the pair would react just as they did, putting them on the path to happily ever after and — ultimately — to producing a bear cub.
Bill clocked some serious miles to woo this special lady; he came all the way from Zoo Brno in Bruenn, Czech Republic. And the Czechs will definitely miss him: Since their births in 2007, Bill and his brother Tom have been huge hits there. The two were products themselves of an arranged polar bear mating, with mom Cora (who now lives in Brno) and dad Umca in Kazakhstan.
Tom also was sent out to follow the family tradition of being a stud, but his arrival in Prague to meet Berta was a bust. "It was obvious that Tom was very nervous," the Portal of Prague reported. "He banged his paws on the cage. He had not been given any sedatives for the journey, neither had he been bribed by some kind of treat."
Lara and Bill have plenty of time to get comfortable with each other before any mating takes place. Prague Zoo spokesperson Vít Kahle says: "We will have to wait for five or six years for the bear to be able to become a father to new cubs." Bill seems like he's off to an excellent start.

Read More
I enjoyed a good ball game with my friend Ed from DPT.
Unfortunately, the Phillies today weren't up to the challenge and lost to the San Diego Padres.
Read More
This is how Philly looks like at night. I took them while driving around; and some pics taken from web Cams.
Read More