Well this time it was Donna Summer 's turn who gave a great concert tonight in Atlantic City.
I witnessed first hand the birth of her leyend. I have all her albums, and have been a loyal fan since 1976.
Donna was considered "The Queen of Disco", what an era. This is the second time I see her live, and it really brings me back into those great memories!
I can still hear her superb voice and her way of interacting with her audience kept us entertained for the whole 90 minutes, mixing some of her greatest hits, with the ones from her latest album: "Crayons".
What a great performance! Truly, The Queen is back!
This has been by far the best well behaved fans I've ever seen!
Read More
I got to see Katy Perry live at the Borgata in Atlantic City, NJ.
What a nice performance. The whole audience loved it! I just love her voice and charisma. She kept us well entertained for 90 minutes performing her whole repertoire. The show is well organized and structured.
I think she'll become one of the big ones some day. She promised us to make a new record really soon. Let's see!
You wouldn't believe it if I told you, the attention I got from a lousy T-shirt. Man, that felt good. I managed to make some new friends, though.
Everybody really had a lot of fun!
Read More
What it may have been the last two concerts by Bruce Springsteen at the Spectrum in Philly, were played on April28-29.
I guess I was one of the lucky 18,300+ who packed the soon to be demolished building-facility sometime in September.
I really enjoyed an amazing performance by one of America's great entertainers with my good friend Nicole Tomassi.
What a show, what a night!!!
Read More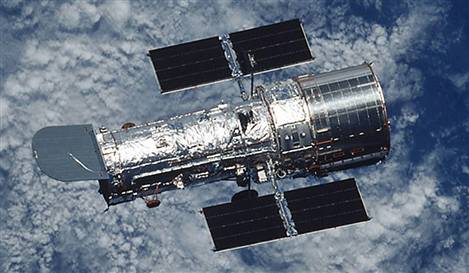 There's plenty to celebrate today as the Hubble Space Telescope turns 19 years old: The billion-dollar orbiting observatory is still in business, even though some people thought it should have failed by now. And after years and months of delay, it looks as if help is finally on the way. The shuttle Atlantis is set to deliver hundreds of millions of dollars' worth of belated birthday gifts next month.
Since the telescope's launch aboard the shuttle Discovery on April 24, 1990, Hubble has traveled 2.8 billion miles in space during more than 100,000 orbits around the earth. More than 570,000 pictures have been taken of about 29,000 celestial objects. The data transmissions sent back from Hubble add up to almost 39 trillion bytes – twice as much as all the data contained in all the books in the Library of Congress.
You can find these and other fun facts on the Space Telescope Science Institute's Hubble trivia page. You'll also find a rundown of Hubble's top discoveries to date – including insights into the nature of dark matter and dark energy, the speed-up of our expanding universe and the development of galaxies, stars and planets.
Just in the past month, Hubble has delivered a new batch of beauties, including its 19th-anniversary picture of a galactic "fountain of youth," a stunning view of an intergalactic smashup and a "People's Choice" picture of a three-galaxy traffic jam.
And there's much more to come, thanks to the Atlantis mission now due for launch as early as May 11: If all goes as planned, two new and improved instruments will be installed, two more will be fixed, and the telescope will be outfitted with new batteries and gyroscopes to keep it on track until the 2013-2014 time frame.
In honor of Hubble's birthday, we've turned this week's Sci-Q test into a Hubblefest. We're also serving up a fresh selection of cosmic images from the past month, including a couple of Hubble's highlights.
Read More