Eerie, glowing waves appear in Maldives, but don't panic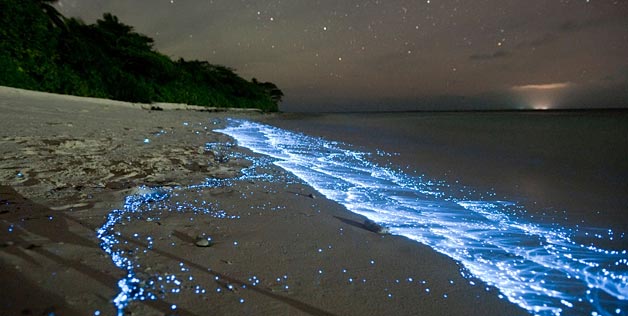 Glow-in-the-dark shark can become invisible ?Don't get creeped out if you're surrounded by unearthly glowing spots during a midnight swim. Scientists say it's a completely natural biological (albeit eerie) phenomenon.
In recently released photos from the Maldives on the National Geographic's website, the shoreline surf is dotted with tiny pinpricks of light, seeming to reflect the constellations above.
This "bioluminescence" is simply blue light from phytoplankton, microscopic sea creatures that secrete illuminating chemicals as a survival mechanism. Tweeps are calling the marine spectacle "amazing" and "awesome" — though we'd like to know how many would actually dive in for a romp with the light-emitting organisms.